XM1014-Balance is a tournament-exclusive shotgun variant of XM1014.
Overview
This gun has the re-balanced stats for tournament purpose to make it not inferior to other weapons, especially during the close quarter combat.
It is more powerful, has higher accuracy, narrower pellet spreading, and slightly lighter than the original XM1014. The recoil and firing speed is original and it retains the standardized 7 rounds per magazine with 21 spare ammunition.
Advantages
High damage dealing.
High accuracy.
Narrow pellet spreading.
Moderate recoil.
Fast rate of fire.
Can be fired while reloading.
Lightweight
Disadvantages
Damage loses on long range.
Low magazine capacity.
Requires some time to do a full reload.
Comparison to the original XM1014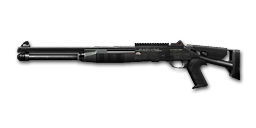 Pros
Lighter.
Higher damage.
Higher accuracy.
Narrower pellet spreading.
Higher magazine capacity (for most versions).
Neutral
Same rate of fire.
Same recoil.
Same magazine capacity (CrossFire China only).
Cons
Only obtainable during CFS season (except CrossFire Indonesia).
Lower spare ammunition size.
Availability
Available in all CrossFire versions during CrossFire Stars competition.
Trivia
Based on in-game weapon comparison, XM1014-Balance has the same firepower as Jackhammer.
CrossFire Indonesia is the only version that sold this weapon outside the CFS season in the Item Shop, alongside with the rest of Balance/CFS weapon set.
Gallery
Community content is available under
CC-BY-SA
unless otherwise noted.