Western
is an
Elimination
map sets within a small western town with various cowboy-themed weapons that can be picked all over the map.
Layout
Being western-themed, this map offers Wild West era buildings, props, and weaponry. It features two identical sides for GR and BL, and leads to close quarters fighting due to its small size.
The players spawn behind a huge pile of M1858 New Army revolvers that can be picked up immediately. In the center is a covered wagon that houses a Gatling Gun. On the bank rooftop to the left is a Mossberg 464 SPX lever-action rifle. And on the right inside a saloon is a Dual Desperado shotgun.
Availability
China (February 2014).
Philippines (August 2014).
West (September 2014).
Indonesia (December 2014).
Español (March 2015).
Brazil (August 2018).
Trivia
The Winchester should be featured in this map instead of the Mossberg 464 SPX, since it is an authentic Wild West weapon, unlike the Mossberg which is a modern lever-action rifle. The most likely reason the Mossberg is used instead is because the Winchester is quite weak and fires very slow in CrossFire.
The Gatling Gun in CF is in-fact a modern Mini Gun. The real Gatling Guns used in the West were bigger and had a crank that needed to be rotated by hand to fire the barrels. A more fitting approach would be mounting the Gatling Gun inside the wagon (like those in Crater) but giving it a slower rate of fire and higher recoil to balance gameplay.
Gallery
Video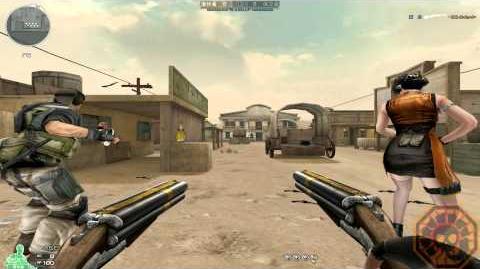 Community content is available under
CC-BY-SA
unless otherwise noted.