Void Rift
is a
Zombie Mode
map located in a remote base in the mountains. This place is home of the Void Overlord and its minions, which soldiers will have to fight throughout the various areas of the base.
Availability
CF China: Void Rift.
No other versions yet.
Gameplay
While categorized as a Boss War map, Void Rift only supports up to five players, probably owing to its smaller size. This map utilizes the same mechanic in Boss War but with an additional Powerup Upgrades that allow soldiers to spend battle points after each round to buff up their weapons as well as summoning additional helps from previously defeated boss (Namely Persona and Longbill) to deal with the oncoming zombies. The map is split into 4 sections, each containing a boss that must be killed before proceeding to the next area.
Media
Videos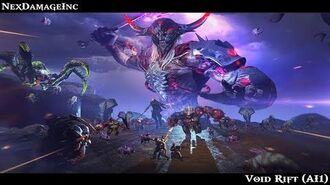 Community content is available under
CC-BY-SA
unless otherwise noted.