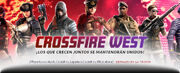 ​​​​​​CF Espanol is merging into CF West. I don't even know why the version was released there, anyways but it lasted 5 years at least. Also, interestingly, it's almost exactly a year since CF Europe merged into CF North America. Now CF Espanol is merging into West, it brings up another question and starts even more rumors, CF Russia is starting to see a bit of a decline also. Just saying, lot of things are starting to line up even before CF HD is being released. You're seeing patterns, small Quality of Life changes to all versions and heavier focus on PvE + MM content, also releasing more and more unique/situational VIPs. 2020 is going to be a very intriguing year, start thinking about spending less, you'll never know how long it'll be around.
Obviously, I'm not saying the game is dead. Server merging happens in a lot of games, we'll see in the future.
Community content is available under
CC-BY-SA
unless otherwise noted.