Here's a problem! Some hackers are caught on camera and banned on forum. The website I visited is a fake by showing passwords which hacks your account. Read it here by click the link in this site: http://www.hotshotgamers.net/2017/01/announcement-beware-of-fake-accounts.html
List of GMs
Here is the list of the official Game Masters: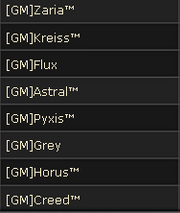 Videos
Hackers can become scammers.
Tips
Kids saw you typing on the keyboard while logging in your CF account. They will hack your account and scam you. Make sure you can use a cap or blanket not to let kids see you typing.
Avoid giving money to anyone when you play CrossFire.
If you have a computer at home, you can play CrossFire when kids are not here.
Protect your account from Scam, Hacks, Links.
Don't let anyone borrow or beg your CF account.
Next Blog
Click here.
Community content is available under
CC-BY-SA
unless otherwise noted.