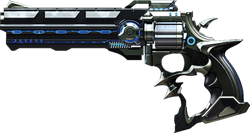 The Raging Bull-Gun Knife (Gunblade) is an OP pistol that can defeat automatic rifles at close to medium ranges. Simply put, it is a primary weapon in the secondary slot. I wonder how many owners of R.B. Gunblades in CF PH have realized this.
I've been playing DM (S&D) games using this as a main weapon with two Deagle VVIPs in my bags, and I've been demolishing people left and right. They keep insulting me for using only a pistol, without knowing that this is no ordinary pistol.
Snipers equipping this pistol no longer need to pick up used rifles from the ground when fighting in close quarters, as the R.B. Gunblade can handle all the CQB work.
To use the R.B. Gunblade in a Pistol-only Match is quite frankly CHEATING, and after a few games I no longer use it because its simply too easy to get the Ace ranking. I'm also concerned that this gun is the epitome of "Pay-to-Win" elements in F2P games.