"A modified TRG-21 with additional ammo. Receiving the God of War, Ares' Grace, it's beautiful skin that makes it a higher value collectible."
- Weapon description
TRG-21 Aries is a Zodiac sniper rifle variant of the TRG-21.
Overview
Keeping the unique design style of the Zodiac Weapons, the TRG-21 Aries features a black frame with jewel engravings, the Aries constellation, and the Aries logo on its keychain. Comes with a 15 or 10 round magazine (+5), enhanced rate of fire and reduced weight.
Unlike most Zodiac weapons though, the TRG-21 Aries does not have any sparkling effects on its body.
Availability
Available in all CrossFire versions
Trivia
Ironically enough, CF VN's description claims this gun has some reference with god of war in Ancient Greece, Ares, even though Aries and Ares are two different names.

Same case with CF PH, with the description saying 'it receives grace from the god of war Ares'.

In CF Philippines, as a specialized weapon, this gun does not drop upon the death of the user. Upon its release, players can purchase this gun at 20% discount (480 eCoins) until April 17 then back to original price (600 eCoins) and is a limited time offer until April 24.

TRG-21 Aries marks the 5th Zodiac weapon to be released in CF Philippines.
Gallery
Videos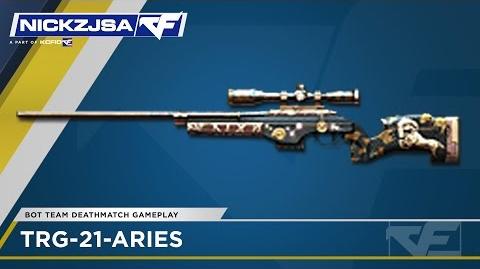 Community content is available under
CC-BY-SA
unless otherwise noted.