Steyr TMP-Valentine is a Valentine sub-machine gun variant of Steyr TMP featured in CrossFire.
Overview
This weapon features a lite-yellow skin included a chocolate layer cover with some pink hearts on its body and some pink cream textures. It has +5 ammo per magazine compared to the original counterpart (105 in reserve). Just like its original version, this reskinned Steyr TMP is also equipped with JHP ammo.
Availability
CF China
CF Vietnam
CF West
CF Philippines
CF Indonesia
CF Korea
CF Japan
CF Russia
CF Brazil
CF Español
Trivia
In CF Vietnam, its description claims that it has 35/70 ammo but when used in game, the ammo counter is 35/105 like in all other servers. This is most likely a typo mistake.
While most versions only offers this gun served as limited edition weapon, CF Vietnam is an exceptive case. This gun (along with Laser Dagger-Valentine & Grenade-Valentine) should have been added in February 2016. However, Feb. 2016 was the time of Lunar New Year, so this gun was added in March 2016 as a part of CF Vietnam 8th Anniversary.
Gallery
Videos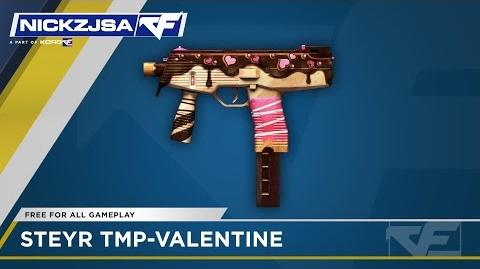 Community content is available under
CC-BY-SA
unless otherwise noted.