Steyr TMP-Gold Black Dragon is a sub-machine gun variant of Steyr TMP featured in CrossFire.
Overview
Like the MATEBA GBD, this gun sports a partial Gold skin (fade to black at the grip and magazine) with black dragon decoration on the slider and magazine. Comes with 35-round magazine (+5), plus 105 in reserve. It's also capable of single/dual wield toggleable like the TMP Ghetto.
Availability
CF China
CF West
CF Vietnam
CF Philippines
CF Japan
CF Russia
CF Español
CF Korea
Trivia
Steyr TMP-Gold Black Dragon is the 1st BB Dragon weapon that does not originate from Crossfire VN.

It is also the 1st non-pistol and 3rd GBD weapon so far.

A peculiarity which is only shared between the Steyr TMP Ghetto and Steyr TMP Gold Black Dragon is that while in Dual Mode, the TMP Gold Black Dragon fires 2 Bullets per shot, effectively cutting your kill time in half, allowing you to kill your Enemies twice as fast when compared to a Single Mode TMP. No other Dual Wielded Weapons behave that way.
This is the only TMP variant not to be featured in Capsule Shop in CF Vietnam, as it's thrown into AI Ticket. It's also the only non-Ultimate Gold weapon to be featured in AI Ticket here.

Also, this is the only GBD weapon so far to be featured as non-limited edition weapon, whereas Anaconda & Mateba counterparts are both limited edition weapons.
A recent update added one of the special Super Mutant package into CF Vietnam's Item Shop, which allows players to buy this gun permanently plus 4 Mutant Ammo Mag, SMG mag, SMG belt to buff up its reserve ammo. This makes Steyr TMP-GBD the only Black Market weapon that's sold directly in Item Shop in CF Vietnam.
Gallery
Videos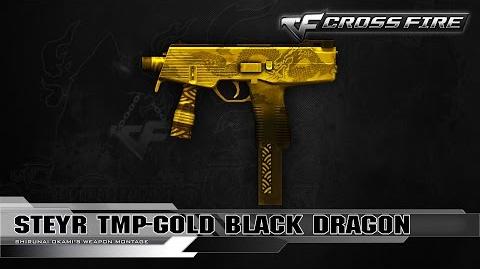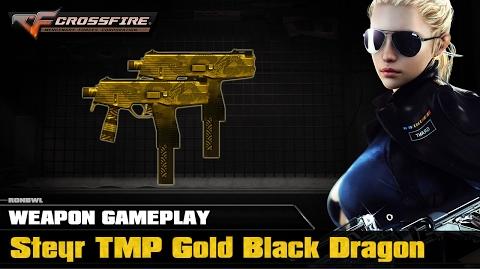 Community content is available under
CC-BY-SA
unless otherwise noted.