Steyr 'Scout' Elite is a bolt-action Sniper Rifle featured in Crossfire.
Overview
This gun features almost the same like the M700, for its damage and weight. But this gun slightly has higher accuracy than M700. Almost similiar like R93 T2, this gun has very fast reloading and very fast bolt cycling. Steyr Elite also features a standard 10 rounds magazine with 20 in reverse and double scope phase. However, it does not have full firepower like most other bolt-action sniper rifle, meaning it cannot score 1-hit kill except for Headshots.
Advantages
High damage
Highly accurate at any range while moving (when scoping)
High ammo capacity for a sniper rifle (10)
Very short bolt cycling time
Short drawing time
Short reload time
Very light for a sniper rifle
Dual scope phase
Easy-to-control recoil.
Cheap and available on Item Shop (only for CN version)
Disadvantages
Low damage compared to other sniper rifle (except M700).
Low damage in Mutation Mode/Hero Mode/Hero Mode X
Low damage in Wave Mode
Low damage in Challenge Mode/Zombie Mode
Obtaintable only through GP crates(In VN, EU, ID, BR and NA versions)
Trivia
In CF Vietnam, Steyr Elite crates is the first one to not feature Coupon, instead there are Soccer Grenade (1d & 3d) and Bronze Bandana (1d) taking its place. This crate also features temp Steyr Elite (1d, 3d, 7d & 30d) along a permanent one, making it quite hard to win.
In CF Philippines, Steyr Elite is available through getting Coupon.
Also in CFVN, this gun features 30 rounds in reverse.
Gallery
Videos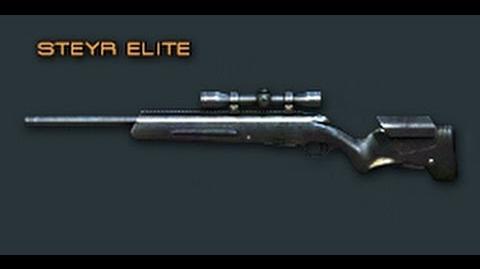 Community content is available under
CC-BY-SA
unless otherwise noted.