Raging Bull-Halloween is a Halloween variant of the Raging Bull.
Availability
CF Russia
CF Brazil
CF West
CF Philippines
CF Vietnam
CF China
CF Español
CF Indonesia
Overview
The Raging Halloween features the same Halloween 2015 design as the CheyTac M200-Halloween and Baseball Bat-Halloween. This variant retains the original's 1-hit chest shot kill capability, as well as having a expanded 7 round capacity (+2).
The larger capacity makes it even more dangerous in Pistol-only matches, and a better choice than the Anaconda (But still one round short comparing to Anaconda RD, Gold or GBD).
Trivia
In CF Vietnam, Raging Bull Halloween does not disappear when its owner gets killed, unlike other Black Market weapons. This is persumably a glitch.
The Halloween 2015 Set, which includes the Raging Bull Halloween, has been sold for three consecutive years in CF Philippines every Halloween season (2015, 2016, 2017).
Gallery
Videos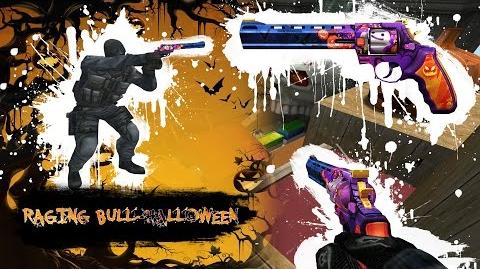 Community content is available under
CC-BY-SA
unless otherwise noted.