Parkour Mode
is an option for select
Team Deathmatch
maps where players go through a series of obstacle in an attempt to reach the goal first.
Availability
CF CN: Jumping Mode
CF VN: Parkour Mode
CF NA: Parkour Mode

CF BR: Parkour Mode
CF ES: Parkour Mode
CF PH: Parkour Mode

CF RU: Parkour Mode
CF IN: Jump Mode
CF KR: Parkour Mode
Description
Up to 16 players can enter a Parkour room, once begin, players can't mid-join the match. This mode works similar with Racing Mode that requires players to navigate through checkpoints and clear obstacles as fast as possible. Instead of riding on Hover Boards / Motorcycle however, players will be on foot, running and jumping gaps, thin ledge, staircases... while avoid falling off or getting hit by map's hazards elements. Each time players crossed a checkpoint, they will respawn there if they get killed or fall off.
Once a player clears the finish line, the rest will be given 30 seconds to catch up, after that the match will end automatically. One match will last for 20 minutes and afterward if no one crosses the finish line, the match will end without a winner.
Maps
Trivia
This is the second mode that disallow joining mid-game, due to its racing nature and time limit. Interestingly though, its cousin in Mobile version does allow joining mid-game as it has no time limit.
For some reason, players are able to spam CTRL mid-air to gain more jumping distance.
Even though Parkour Mode is a special mode, it's grouped into TDM room options, whereas other modes like Coin, Sheep, King... has its own mode tab. This is likely because Parkour Mode is an extension of the Melee Only option rather than a new mode altogether.

For this reason, winning or losing in this mode will affect players' record in TDM Mode.
In CF Vietnam, this mode has Vote Kick just like Weapon Master mode.

In CF Vietnam, there is an event that from 16/12/2017 to 22/12/2017, the player who complete this mode with the shortest will receive all Noble Gold weapons has been update in this server (except AK47-Beast Noble Gold because it's doesn't have a permanent variant), the second will receive 5 Noble Gold weapons they'd like to choose, the third will receive 3.

This is one of a few competitive events that requires player to submit video footages of their result rather than screenshots, leading to many players complaining because they don't know how to screen-record properly.
Media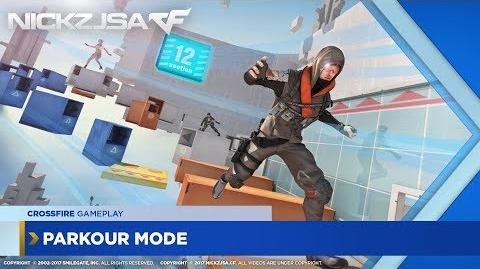 Community content is available under
CC-BY-SA
unless otherwise noted.