Walther PPK is a semi-automatic pistol featured in CrossFire.
Overview
Comparing to other pistols, PPK has a mixed rep, with fast firing rate and good accuracy, but suffers from its long draw and reload time. Also note that PPK shares draw animation with Desert Eagle while it has an unique reload where character spin the guns around like Dual Colt. It appears to have the similar firing sound with Beretta M9. Due to its compact size and ammo type, this gun is quite weak, requiring 4 body shots or 2 headshots to kill armored opponent, coupled with its small magazine (7 rounds) makes it quite hard to use against multitple opponents, so it's recommended to equip VVIP pistols or Barrett M82A1-Iron Shark to increase its magazine.
Availability
CF Japan
CF West
CF Vietnam
Trivia
This gun was released with the FAL Custom and RAI Model 500 in a GP capsule called Assault Girls capsule pack. So far, it is the only one gun that has been released outside of CF Japan.
This is James Bond's signature pistol, hence why many people might be disappointed that it was not released to other CF servers for such a long time.
Interestingly enough, both CF West and CF Vietnam feature PPK as secondary prize in a Sniper Capsule (West being FR-F2 Freezing and VN being Dragunov Tigr 9).
Gallery
Videos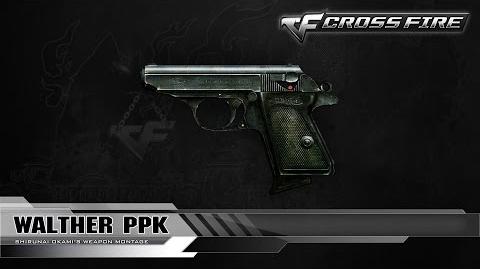 Community content is available under
CC-BY-SA
unless otherwise noted.