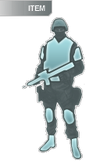 The content of this article was removed from CrossFire.

The information displayed is no longer relevant to CrossFire, but exists here for historical purposes.
New Deathmatch
was one of the oldest mode featured only in CrossFire Korea & CrossFire Vietnam , during its early days. This mode was scrapped later on for unknown reasons, and no other versions ever received it. However, few images and sounds are still within the game's files.
Basics
New Deathmatch is an advanced Free For All where players can collect Power-Ups to enhance their gameplay. They are scattered around the maps and will respawn after a while once taken. These power-ups last few seconds (it can be extended if the same power-up is collected again) except for few instant effects power-ups.
Power-Ups
Each power-ups has its own logo, however most of them are random (shown as a ?):
| Powerup | Icon | Description |
| --- | --- | --- |
| Ammo refill | | Fully refill players' ammo. |
| Health refill (+50) | | +50 HP upon collecting. Max HP possible is 200. |
| Health refill (+100) | | +100 HP upon collecting. Max HP possible is 200. |
| Ghost On | | Partial Invisibility (30s). |
| Radar | | Show enemy opponents on the Mini-Map; including Ghost users (30s). |
| Reaction down | | Highly reduce weapons recoil (30s). |
| Shield | | Damage received is reduced by 80%; except Grenades (20s). |
| Power UP | | Double Damages; useful against Shield users (30s). |
| Speed Up | | Increase player's movement speed. |
| Super Jump | | Allow players to jump higher (30s). |
Maps
There was only two maps for this mode unfortunately. It was scrapped before new ones could be made.
Trivia
Even New Deathmatch only available to CF Korea , most of the maps loading screen at that time has placed "ND" mark on it, implying that originally this mode could be available for more maps before scrapped 
This mode had been appeared in CF Vietnam in 2008, but it had been removed because of some reasons. Until 4-5 years later, in 2012 (or 2013), CF Vietnam's fanpage showed the map Dark City. 
Due to their similarity usage of power-ups, it can be speculated that Sheep Mode is the spirutal successor to New Deathmatch.
The Power Up Pick-Up logo is also the same one applied on Wall-Shot Kill logo.
Videos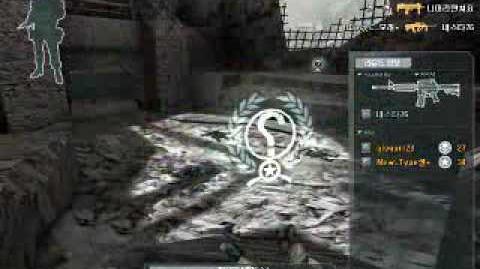 Community content is available under
CC-BY-SA
unless otherwise noted.