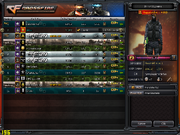 NameCards
are backgrounds for players' IGN / Clan name, which are shown while being in lobby, channel, or room and at the scoreboard.
NameCards can be obtained via Item Shop or Reward Crates (ZM). Players can own multiple NameCards at the same time, but only one of them will be in use. Obtaining a NameCard automatically set it to "In use" state.
All NameCards are temporary and players must keep renewing them (If bought from Item Shop) to continue using them. Certain special type may be permanent, depends on publisher's choice. The NameCards from Ranked Match's reward are permanently.
Some NameCards are in limited edition and may be available only during in certain time of the year, such as Euro, World Cup, WEM, WCG, etc...
Current Namecards
WCG
World Cup 2014
Euros 2016
CFS2016
World Cup 2018
Clan 2.0 Patch
Temporary NameCards from Clan 2.0 Patch in CF NA






Ranked Matches
Z8Games CFNA
Only Available in CrossFire North America, Brazil and Español for Staff members.

Z8Games CFES
Only Available in CrossFire Español.

Gamerage CFEU
Only Available in CrossFire Europe.


CF Brazil Exclusive
Community content is available under
CC-BY-SA
unless otherwise noted.