After reaching the max EXP rank of Marshall (Level 100), there are multiple other ranks after obtaining the max EXP level. There is a reputation level (Level 101, 102, 103), a Grand Marshall rank (Level 104), and Honor Marshall levels (Honor 0-500).
Each system has a character available as a reward, Arch and 2 variants of Arch. The character(s) also have exclusive Character Items which gives bonus EXP, GP, or Item Attributes like Flash Guard.
Reputation System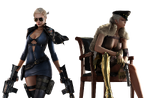 These grades are variable rankings that allow Marshalls to see who is the top dog. Unlike the normal EXP rankings, the requirements to meet these rankings can change daily. These rankings are based on the overall percentage of current Marshalls in the game. Reputation itself is very easy to gain. You will gain reputation points as you play games against other players. There are currently methods implemented that will prevent or reduce the reputation you gain if you attempt to farm AFK/lower skill level players. Instead, you will gain the most reputation points when facing other players of similar skill levels. So make sure you're keeping your skills in top condition.
Unlike normal Ranking, the Reputation system is dynamic and will change day by day, which means if players slack off, it's possible for them to be down-level, and lack of regular training results in a wider gap to the next ranking.
Grand Marshall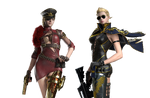 When you reach Marshall rank, it is possible to skip Marshall Lvl 1 to 3 by acquiring 99,999,999 EXP to obtain Grand Marshall
Honor Marshall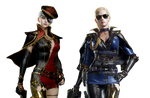 Updating...
Similar to Overwatch's Progression, this system allows the player to have up to 500 extra levels after the player reaches the max level. There are 10 tiers, with 5 levels each tier and rewards multiple Loading Screen Backgrounds and Ranking alternative images at certain Honor Levels. Players cannot AFK XP as there are diminishing returns in which a player must-do tasks in order to reset the cap.
Gallery
Updating...
Community content is available under
CC-BY-SA
unless otherwise noted.