The M4A1-X is a special variant of the M4A1 assault rifle.  
Overview
This M4 variant features the RIS Rail System and flip-up iron sights, with the carry handle removed and a forward grip attached. It also has an unusable flashlight.
In CF, the M4A1-X functions similarly to the standard M4A1 albeit, with a new look, more damage, better accuracy and less recoil. It is often compared to the LR300 ML since both are nearly identical in-game (of course, with the M4A1-X having better stats).
Availability
CF West
CF Philippines 
CF China
CF Vietnam
CF Korea
CF Indonesia
CF Brazil
M4A1-XS
Another M4A1-X variant, despite not having a normal variant available. They have a silencer attached, with the forward grip and flashlight removed. They behave like a normal M4A1-S without a carry handle. They reload a bit faster than M4A1-X.
See also: M4 Commando, a closest match to M4A1-XS with red bandage.
Variants
Trivia
After nearly one year missing in CF Vietnam, the M4A1-X was added in 2014 November patch as GP item - strangely, it has 35 rounds and 105 in reverse, effectively making both Camo and Halloween here useless. Until now, the weapon remains the same, so its stats can be intentional. Also, thanks to this, most players will sell their M4A1 (if they have) & purchase M4A1-X (which has slightly lower rate of fire but larger capacity as well as 3 spare magazines) as M4A1-X is only 3000 GP expensive than normal M4A1. If using in Zombie Mode, the total spare magazine will be tripled as 315 (much more than M4A1's case as 180).
CF Brazil has removed the M4A1-X from the Shop, probably because the Camo version is on GP Black Market.
CF Philippines removed this gun from the Mega Lotto for a limited time only. After its removal, it is available as an event item for 7 days when players can top-up and purchase 50 eCoins.
Gallery
Videos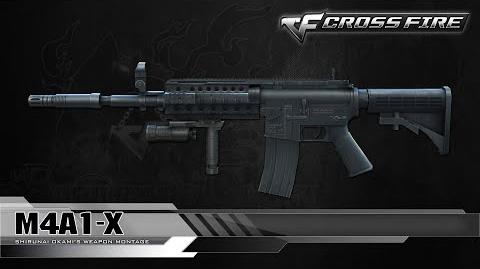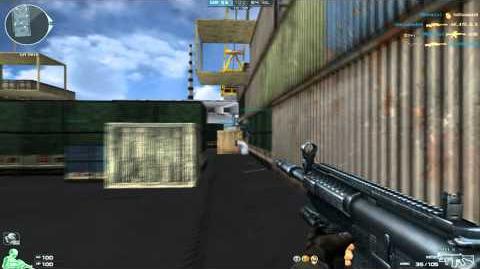 Community content is available under
CC-BY-SA
unless otherwise noted.