Laboratory is a medium sized map for
Ghost Mode
but was also available for
New Deathmatch
in the past. This map is pretty basic, loved by many players.
Story
The US government and UN were jointly developing weapons at a secret underground laboratory. However, one of the researchers betrays them and runs away with a transparent ghost tool kit. The stolen ghost toolkit gets passed onto unknown armed forces and these special forces request Black List to destroy the secret lab by using the toolkit.
In order to resolve this issue without letting the world know, UN X-File Department of Management requests the special mission team GRX of Global Risk for cooperation. The incident leads to head-to-head collision between Black List and Global Risk.
Ghost Mode
Global Risk: They are known to camp a lot in this map as Ghost usually have enough space to sneak up on them. So they will hold vents, corridors and most likely sites. They will also often attempt to rush Black List's spawn to access the top of A-Site.
Black List: Due to multiple flat surface, bunny hopping is not an issue. They will often try to rush any sites and plant as fast as possible. While it can easily backfire, in most public games, it works. They must avoid vents at all cost, especially if they have a C4, if they lose it in a vent, they are doomed.
Trivia
Near the Black List spawn, there's an door with a lot of sparks, if you look closely between the doors, you will see a picture of a baby. No word on who's baby is this, just a weird easter egg by the developers.
The early stage of Laboratory could be found and reuse with modifications, showing the raw map with many minority from the real one (less dark, small rooms for Power Ups to spawn, and others). It's actually used for New Deathmatch mode, but both were scrapped in early days.
Gallery
Videos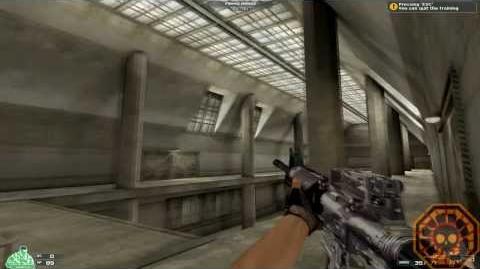 Community content is available under
CC-BY-SA
unless otherwise noted.