Kriss Super V-Ares is a variant of the Kriss Super V submachine gun in CrossFire.
Overview
This weapon is released along with CrossFire 2.0 update.
The Kriss Super V-Ares is a modification of the original Kriss Super V, fed with .45 ACP Jacketed Hollow-Point bullets. The JHP rounds have a tagging effect, meaning enemies getting hit will be slowed down, making it harder for them to run away.
The Ares variant has a magazine size of 45 rounds (+10) with 90 or 135 rounds in reserve. It has a black-white-red color pattern like other Ares weapons and has a slightly faster reloading time than the original Kriss Super V. Overall, it is a fast and relatively powerful SMG.
Availability
CF China
CF Vietnam
CF Brazil
CF West
CF Philippines
CF Indonesia
CF Korea
Trivia
Again, this gun has ammo inconsistency glitch in CF Vietnam, it has 45/90 in normal modes and 45/135 in Mutation mode and variants.
The Kriss Super V-Ares is shown with its iron sights flipped up in 3D renders and inventory images. But in actual gameplay, the iron sights are folded down just like other Kriss Super V variants.
This submachine gun variant is obtainable as a reward from Return User Support System in CF PH for 14 days.
Gallery
Videos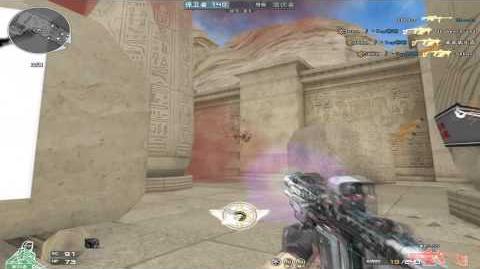 Community content is available under
CC-BY-SA
unless otherwise noted.