Gold Bar is a melee variant featured in CrossFire.
Overview
This weapon is a remake of the Brick-Ultimate Gold, albeit with a proper Gold bar model. It otherwise functions the same as the Brick, barring a modified draw animation which consists of the user polishing the Gold Bar with their hands, while a squeaky rubbing sound effect plays.
Availability
CF China
CF Vietnam
CF West
CF Indonesia
CF Philippines
CF Español
Trivia
This weapon was mistakenly put on sale on Casino Royal in May 31th, despite not being released yet in CF Vietnam. It was quickly taken off-store, but lots of players were able to take advantage of the 30 minute window to buy one for themselves, hence giving them access to the Gold Bar ahead of everyone else.
In CF North America, this weapon was obtainable permanently during the pre-order of both Trixy and M4A1-S Radiant Beast.
Gallery
Videos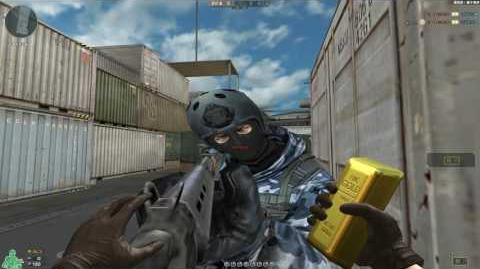 Community content is available under
CC-BY-SA
unless otherwise noted.