Glass Prison
is a
Elimination
/
Melee Only
map located within a large holding cell area. It does however features two weapon pickups within the map, similar to
Arena 2
.
Availability
CF China: Glass Prison.
CF West: Glass Prison.
CF Vietnam: Holding cell area.

CF Brazil: Glass Prison.
CF Español: Glass Cell.
Descriptions
The map itself is a prison area with various security doors and platform. Black List spawn inside the cell in the middle area, while Global Risk spawns on the north and south areas. They can either battle each others around the map or attempt to get either a Beretta M9 (west side) or a Wide Grenade (east side).
There are various boxes and platforms to hide and confuse the opposing team, and the glasses are bulletproof so whoever has the pistol can't perform wall-shots. Since the doors only open from inside the cell using the lasers; soldiers may enter / go back inside if a door is still open or using the platforms.
Trivia
Although it is an holding cell, for some reason the doors can only be opened from inside the cell, which defeats the purpose of a prison / holding cell if the prisoner(s) can escape so easily.
Media
Videos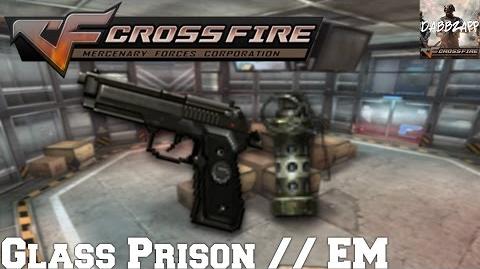 Community content is available under
CC-BY-SA
unless otherwise noted.