Ghost Vs. Mutants
is the fourth installment in the
Mutation
variations. Soldiers run wild with Ghost equipment attempting to avoid the
Mutants
trying to pinpoint their locations on new exclusive map(s) available for this mode.
Availability
Ghost Vs. Mutants (China, Japan, Brazil, West).
Ghost Vs. Zombies (Vietnam).
Devastation Mode (Russia).
Nano Mode 5 (S.E.A).
Nano Vs. Ghost (Korea).
Zombies Vs. Ghost (Philippines & Indonesia).
Basics
This mode uses Hero Mode X's mechanics and rules, meaning that melees does more damages and rounds might end up in a massive fight after enough soldiers are mutated. However, Havoc is unable to see the specific location of each individual soldiers, so he has to pinpoint with the rest of the Mutants, while Ranger are permanently marked.
As the round start, everyone has the usual countdown to find a suitable spot to camp and then depending on the number of players present, some will become host mutations. The Ghosts uses mixed mechanics as they are only invisible when stationary (Ghost Mode) and they also have loud breath sounds (Shadow Mode's). Also, when Mutants are within Ghosts' breathing distance, a notice will pop up to alert them to look for the Ghosts nearby.
Additionally, a new bar that slowly fills up will give points each time it's completely full, the twist however is that it fills up much more faster if the ghost is moving. Thus meaning that a ghost that like to take risk will be awarded points much faster than camping allies, although they might get greedy and get mutated instead if careless.
The ghosts can also attempt to attack nearby Mutants for additional points, thanks to the damage bonus given for each mutated soldiers. Therefore most melees are likely to deal massive damages anywhere on the body, although aiming at their head is always the better option. Mixing that with the meter could end up giving lots of points.
Maps
This mode, unlike the previous installment, does not feature the original maps from Mutation Mode or any of its variants. As they are totally incompatible with the mechanics of chasing invisible foes. Thus, this mode use a new map exclusive to Ghost Vs. Mutants that fits say mechanics; although it is quite likely more will come later.
Flooded Area: A small territory currently flooded featuring open areas, as well as a couple of hiding spots.
Gallery
Videos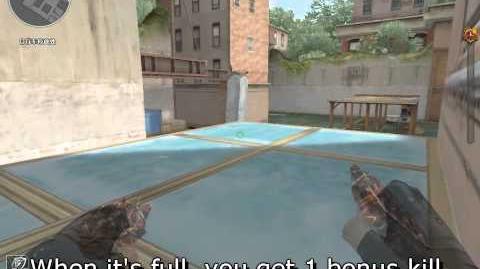 Community content is available under
CC-BY-SA
unless otherwise noted.