The content of this article was removed from CrossFire.

The information displayed is no longer relevant to CrossFire, but exists here for historical purposes.
Double Defense Shotgun which was developed by the Stoeger, modernized the model of break-action method for a shotgun.
- Weapon description

Double Defense Shotgun is a break-action shotgun featured in CrossFire.
Overview
The Double Defense Shotgun can be considered a shorter version of 687 EELL Diamond Pigeon, but it comes with a mounted holographic sight and a black finish.
This shotgun holds two shells just like 687 EDP (28 in reserve), and it has a much wider pellet spread (due to the short barrel), but still boasts a very fast firing rate. Even though they have the same break-action design, the Double Defense Shotgun features an unique set of drawing/reloading animation - this gun draws very quick with player characters only flipping it to their hand, and the reload animation shows character open the tubes, dump the two shells out then insert two new in before closing the tube. This means the Double Defense draws faster, but reload slower than 687 EDP.
When pressing right click/RMB, the holographic sight is not actually used, but instead zooms in.
Advantages
Medium to high damage dealing.
Medium to high accuracy.
Medium recoil.
High accuracy when zoomed in.
Fast drawing speed.
Narrow pellet spread.
Disadvantages
Slow reloading time.
Damage loses on long range.
Very low ammo capacity.
Availability
Trivia
In real life, Double Defense is available in both side-by-side and over-and-under configuration. Both comes with two Picatinny rails to mount accessories.
Using Left Handed mode will result in the gun's barrel rails to be placed to the left, which is illogical.
This is the second shotgun that featuring an usable scope, the first is FN TPS.

Unlike FN TPS, the function of the sight on the Double Defense is just optical zoom, which makes Double Defense is the first shotgun to have optical zoom function, later following by A-Bolt Shotgun.

Despite the fact that this weapon was never released to any versions due to CF Japan's closure, the artwork of DX Heroine-Noble Gold and DX Heroine-Puma (first released in CF China) actually show that the character on the GR side is wielding this weapon.
Gallery
Videos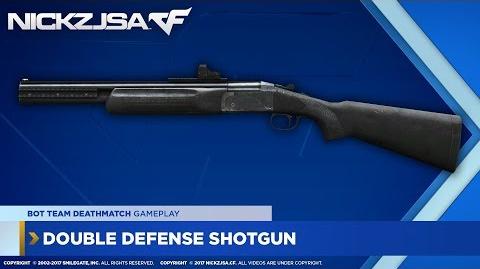 Community content is available under
CC-BY-SA
unless otherwise noted.