Devastated City
is a
Zombie Mode
map sets within a large demolished landscape caused by a massive explosion. It seems to be inspired by various manga and most likely Serious Sam for certain aspects.
Story
After the battle with Blitz in Thunder Tower, GRX team win the last. However, due to the battle's intenseness, it broke the seal of the monsters under the tower, bunch of the enemies came out from Thunder Tower, and GRX's lives were hangs on the line.
At this emergency moment, the Mysterious Boy and Mysterious Girl appeared, more unexpectingly, they use their super-power to create a portal and save GRX members. Although they escaped from the tower, the city they teleport to is already a ruins, and enemies are coming out all over the places. GRX memebers were put in a quandary. At this moment, the Mysterious Girl decided to give her super-power to GRXs to fight against the enemies. The so-called super-power is a kind of variant of biochemical virus, it can stronger mortal's body and make their brain resistance to the virus. And now, GRX is going to fight against the incoming enemies with their strengthen bodies and elite tactics. ~CrossFire China's in-game description.
Availability
Description
It takes place inside a city ruin caused by a massive explosion (which could be a nuclear explosion) with destroyed buildings and roads formed a closed quarter at the Main Square. Soldiers must fight off zombies that spawn from the grounds and some dropping in via spacecrafts, plus some creatures that can fly around. There is only one ammo supply station at the center of the square, which soldiers can approach it from any direction.
This map use the same Safe Reward with EMD Lab, but with new prizes introduced, such as Nemesis, Gloves Purple Skull, FP+ item... The Safes are separeted from EMD Lab's with their own background, and it still offers the ability to open any crates of the same colors or lower.
Features
Events
Hard Difficulty
Main article: Blaze
After defeating Atlas, the Special Wave will begin as Atlas comes back for a quick retalliation with much quicker attacks. All players stand a chance to receive Laser Canon to use in 60 seconds, and Atlas has much less HP, so he won't stand as much this time. Once it is defeated, Blaze will slowly descent from the flame clouds way up in the sky.
Blaze is said to be a flaming angel. His speed match up or even surpass Nightmare's. Additional supply drop will provides soldiers with freezing rockets launchers and laser cannons, as well as trap net crossbows in order to slow him down.
Defeating the boss within the Hard Difficulty's usual time attack of three minutes (both Atlas & Blaze) will grant players an additional boss defeat for their boss crate requirement. The boss crate contains a full Blaze character and weapons sets, such as CR-21, Dual Desert Eagle, Iron Mace Grenade and Boxing Gloves Blaze!
Trivia
Gallery
Videos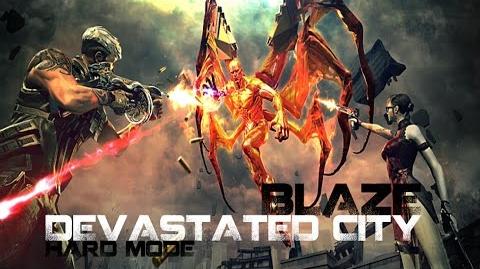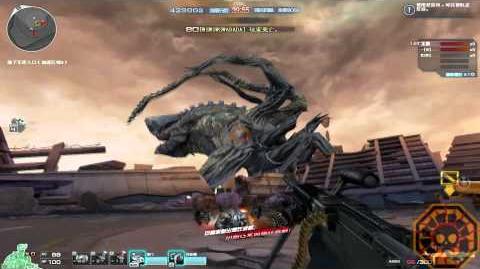 Community content is available under
CC-BY-SA
unless otherwise noted.