Desert is a Search & Destroy, Team DeathMatch and Free For All map; remake of Counter Strike's popular Dust 2 map, featuring its exact layout.
Availability
It is currently only available (and used to be) in the following versions:
CF China: Desert-Gray
CF Korea (Pmang): Desert
CF Japan: Desert
CF Vietnam: Desert Storm
Description
It shares the exact layout as Counter Strike's Dust 2, although the lack of details with the current textures makes the map somewhat too big and empty. Due to obvious reason, the map is only available in one version; unless other publishers are willing to extend the license so that it can be used in their respective version(s), it will remains exclusive.
This map has been succeed by Desert 2.0, featuring closer resemblance to CS's Dust 2 map.
Trivia
The old map with original texture has been deleted in CF KR (Pmang), JP and VN, and also replaced with new one in CF China in 2008. Tencent did this to save this map from copyrights in the old day.
This map features a more traditional texture set in its Mutation, Hero Mode and Hero Mode X variant; Nano Desert.
This map used to be available in the Vietnamese version under the name of Desert Storm. It went under the texture overhaul and was eventually removed. It was still available for a while with the help of the hacking community.
Although the map is now long gone in the aforemention version, the name was instead given to the original Search & Destroy map, which was already using this name in most versions of the game; Desert Storm.
Despite that Desert is exclusive to CF China, it's available in CF Mobile version as S&D and FFA map. Likely because Tencent owns CF Mobile and they are able to pay license fee to secure complete rights to distribute this map, whereas Smilegate could not do it in the PC version.
Gallery
Video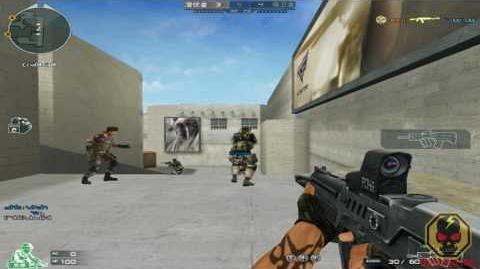 Community content is available under
CC-BY-SA
unless otherwise noted.