CF Arena
(referred as
CF Arena 1st
)
is a
Melee Only
map that can be played in
TDM
and
EM
. A second version which can only play in EM was updated much later. It's available in almost all CF version up to date.
This map was later available for Headshot Only mode, which is the very first time players can bring their own guns into this map. There is also an option to play Arena in RPG-7/Melee mode now which is only available in CF China.
Availability
CF China
CF Vietnam
CF Philippines
CF West
CF Russia
CF Indonesia
CF Korea
CF Japan
CF Brazil
CF Español
Description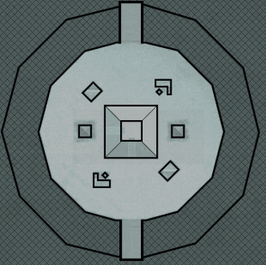 The map is a huge enclosed arena with a center square and a few boxes around in addition to some pillars. Black List spawns from the Northern side while Global Risk spawns from the Southern side. Anything goes in this map because there is no place to hide or camp, and everyone will be out battling each other until the match is over. CF Arena is considered the most popular Melee Only map in many CF version due to its straight forward design.
This map later available as one of the few Headshot Only playable maps, and players are allowed to use weapons in this mode instead of just Melee Only. This make CF Arena quite popular in Headshot Only as well because of its open space area, giving players no cover to hide from.
This map also available in RPG-7/Melee mode in CF China, and funny enough, the rockets suffer from slow movement, making for an interesting gimmick for the map.
CF Arena 2

CF Arena 2
is the only variant map of CF Arena. It contains 2
PSG-1
's for the use of players and also includes a bridge in the center of the map across east and west.
Unlike CF Arena 1st, CF Arena 2 has no Team Deathmatch mode and it is only playable on Elimination Mode.
Trivia
This map was available in CF Vietnam until 2010 when it was removed along with "Melee Only" option due to scandals. Almost three years later in 2013, it was finally brought back in July patch, three months later than "Melee Only" which was added back in April patch. But only CF Arena 1st made a comeback, CF Arena 2 has been deleted permanently.
Community content is available under
CC-BY-SA
unless otherwise noted.