Mecha Phoenix (Phoenix of the Doomsday as the translation from CF China), as the name suggests, is a mechanical phoenix with fire based attacks and then some. He is somewhat reminiscent of Chaos, since they are both flying bosses; but also Atlas for the fire breathing and the fact it only moves around the map.
Attacks
Feather Bomb: The Phoenix will launch Feather Bombs onto the ground, which will then stick in place and detonate in two seconds. Avoid their red blast radius.
Fire Blast: Same as Atlas, Phoenix will blast a huge fire trail following one player while burning the ground to catch other players off guard.
Tornado: He will release a couple of Tornado onto the map, catching players wandering near it and render them helpless. Depending on their height, players may need to perform a kick to avoid falling damage (Although if they have Fall damage absorbed, this is not a big issue).
Tips & Strategies
Stick to the edge of the map. This will minimize damage taken from Feather Bomb, and the Tornado can't hit you there.
If you are the target of Fire Blast, stay away from your friends and run in circle.
Wait for Phoenix to stop before using special weapons. He won't be frozen if you shoot him while he's flying.
Gallery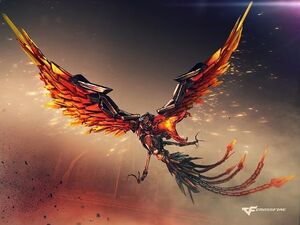 Community content is available under
CC-BY-SA
unless otherwise noted.