Enjoy your Christmas Eve with the AK-12 with Christmas skin on it.
- In-game description
AK12-Xmas is an assault rifle variant of AK12.
Overview
This weapon features a festive design, featuring Christmas-like color scheme (which are green and red mixed with gradient black) with repetitive Christmas tree layouts, gingerbread and snowflake decals, and candy cane red stripes above the grip. As soon as the player finishes reloading, the player will see a snowflake sparkling effect and hear a Christmas-like ring sound.
The weapon has the same stats of the original weapon, but with improvements such as higher magazine capacity (to 35 rounds per magazine), faster drawing speed, and faster reloading speed.
Advantages
High damage dealing
High accuracy
Medium rate of fire
High magazine capacity
Fast reloading speed
Fast drawing speed
Disadvantages
Loses accuracy when sprayed
Loud firing sound (less louder than AK47)
High recoil (more stable than AK47)
Bad spraying pattern
Availability
Available in all CrossFire versions.
Trivia
The HUD icon, bag icon, and killfeed icon of this weapon shows a front grip attached to the AK12-Xmas, yet the front grip isn't on the actual model in-game.

It is somehow due to the probability of the developer forgetting to remove the front grip from the HUD, bag and killfeed icon, as in the beta version of AK12.
It is finally fixed during the third week of December 2017 on CF Vietnam and CF Indonesia.
Gallery
Trivia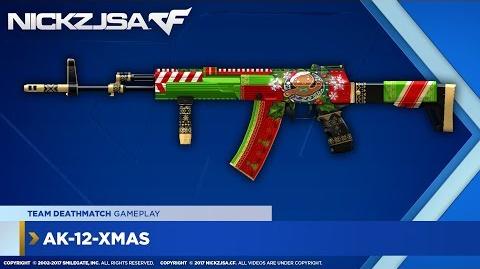 Community content is available under
CC-BY-SA
unless otherwise noted.