AEK-999 is a machine gun featured in CrossFire.
Overview
AEK-999 is another Russian-made machine gun with a design similar to the PKP 6P41 Pecheneg albeit without a scope. Just like the Pecheneg, it has a 100-round magazine and the same firing rate but it has a higher recoil and loses accuracy at long range due to the silencer equipped and the player's HUD will shake uncontrollably when fired at full-auto.
Advantages
Moderate to high damage dealing.
Fast rate of fire.
Decent accuracy.
Standard machine gun magazine capacity.
Quiet firing noise.
Disadvantages
High recoil (Higher than the Pecheneg).
Loses accuracy at long ranges.
Slow drawing speed.
Slow reloading speed.
Heavyweight.
Availability
CF West
CF Russia
CF Philippines
CF Español
CF Korea
Trivia
This weapon was first found on CF Europe's game files.
This is the 3rd Russian MG in the game, after the RPK and PKP.

It is also the 2nd MG equipped with a silencer after the KAC ChainSAW.
If the KAC ChainSAW used its beta firing sound, AEK-999 will be considered the 1st MG equipped with a silencer.

The AEK-999 ejects spent cartridges on the left side of the ammo belt is fed, which is very unusual.
Gallery
Videos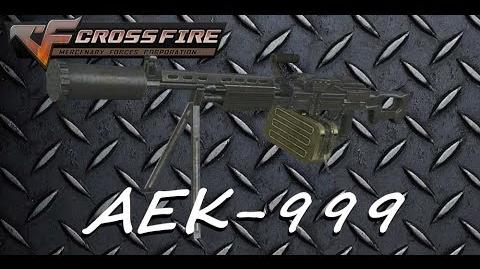 Community content is available under
CC-BY-SA
unless otherwise noted.